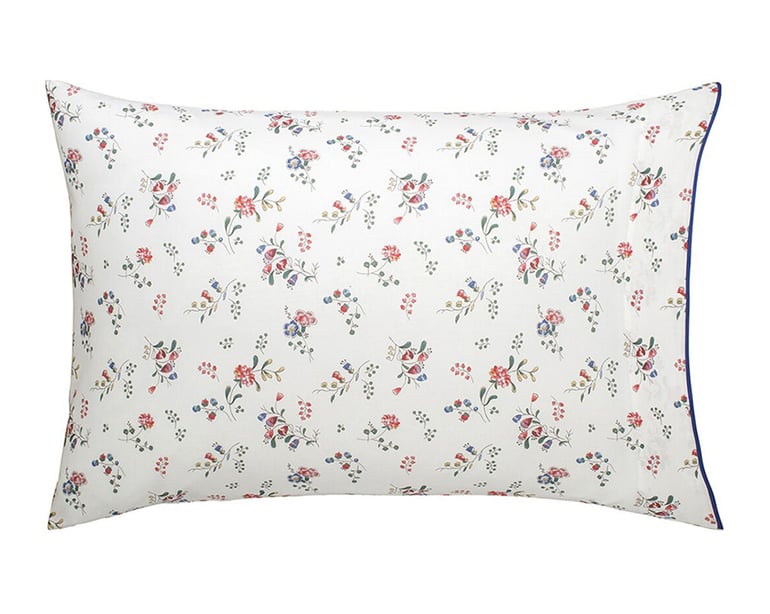 -30% clearance
Description and Characteristics
Inspiration from beautiful Provençal fabrics, with its multicolored
Indian flowers on a bright white. Immerse yourself in a majestic world of creativity where patterns are combined in a range of very French colors like royal blue, pure green, and bright red and white.
The pillowcases will go perfectly with your bed linen set. They come in sets of two, and are available in two sizes. They are made of the fabric on the back of this model, like the fitted sheet.
Its 100% cotton percale with 200 TC (80 threads per sqcm) guarantees you a good night's sleep.
It is Easy Care treated for quick and easy ironing.
For a contemporary, refined bedroom, try the other products in our BASTIDE collection.
You'll also love this model's matching terry fabric.
Washing Instructions Description
This product can be washed at 140°F and then tumble-dried at a moderate temperature. Follow the care instructions on the label.
100% organic cotton percale 200 TC - 80 threads/sqcm
-30%
SET OF 2 PILLOWS CASES
Bastide
by

Anne de Solène
from
$155.00
from
$108.50
of which eco-part.
0 €
Secure payment
Secure payment by Visa,
Mastercard,American Express,
PayPal, PayPal Later
Fast home delivery
3 to 7 business days in the USA
Free shipping at home
Free shipping at home by Fedex
Configure my products set